Air pollution isn't just dirty. It is poisonous. Diesel cars produce Nitrogen Dioxide, one of the most toxic air pollutant in cities.
4 out of 5 new diesel cars will be pumping out dangerous levels of Nitrogen Dioxide – some 15 times over the legal limit.
UK's High Court found the government guilty of underestimating how much diesel cars will worsen the pollution in our air.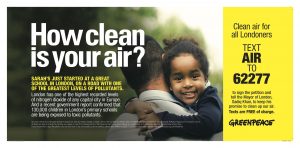 Dirty air is responsible for cutting short 40,000 lives in the U.K each year and if the Government continues with its current policies, some parts of the country will not fall to legal pollution levels until 2025.
Their failure to act is condemning a whole generation of children to poor quality air and health problems. It's not acceptable that our children and grandchildren are being exposed to dangerously polluted air is it?
Lots of people make healthy decisions in their day-to-day lives – they choose to eat healthily, keep fit and exercise, they don't choose to breathe dirty air. But the sad thing is, many people can't avoid it.
Living near a busy road carries the same risk as passively smoking 10 cigarettes per day.  Greenpeace wants a real commitment from the government to invest in cleaning up our air. We are working hard to make this happen.
Sign the petition to tell Theresa May to cut diesel emissions – ban any new diesel cars from coming onto our roads and accelerate the shift to cleaner, greener road transport.