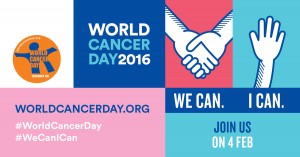 We all know someone who has been affected by this horrible disease and this year already it seems we are losing so many British greats to it. Alan Rickman, Lemmy, David Bowie and now the adorable Terry Wogan.
Here at Thirtyone we take part in a lot of fundraising, after all its our job, and we've decided to do our bit during World Cancer Day.
For the first time, Cancer Research UK, Anthony Nolan, Breast Cancer Care and the Movember Foundation are joining forces for World Cancer Day on Thursday, February 4.
The charities are calling on men, women and children to wear a Unity Band so we've brought lots already from each charity and will be selling them to our wonderful staff along with our old favourite – cakes!
World Cancer Day is a chance to reflect on what we can do, make a pledge and take action. Whatever you choose to do 'We can. I can.' make a difference to the fight against cancer.
Visit worldcancerday.org/get-involved to find out how to get involved in World Cancer Day.